At She Bop, sexual empowerment is for EVERY BODY
There is no one-size-fits-all approach to sex education or pleasure. She Bop fosters an affirming, inclusive space where everyone can be themselves. All bodies are celebrated here. We fight for equity in the adult industry. We are working to decenter whiteness — in our hiring practices, education program, product selection, and beyond. We recognize there is more to equity than dildo skin tones. This is ongoing work, and Team Bop is dedicated to it.
Locations and Hours
N. Mississippi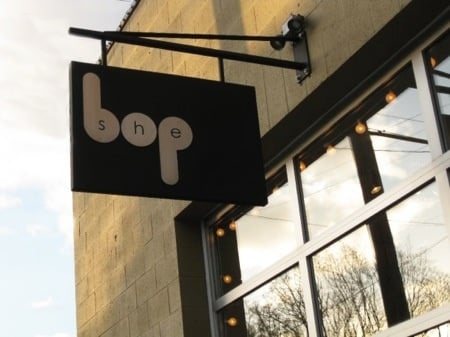 Our Mississippi shop is located in Portland, Oregon's Historic Mississippi District in North Portland. We are on N. Beech, just off N. Mississippi around the corner from Kate's Ice Cream.
909 N. Beech Street
Portland, Oregon 97227
Map
Phone: 503-473-8018
Monday: 12pm - 7pm
Tuesday: 12pm - 7pm
Wednesday: 12pm - 7pm
Thursday: 12pm - 7pm
Friday: 12pm - 8pm
Saturday: 12pm - 8pm
Sunday: 12pm - 7pm
In-store pick-up available 
SE Division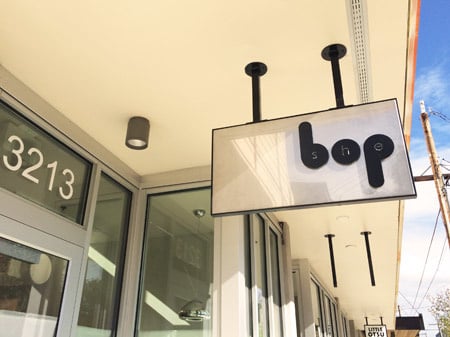 Our Division shop is located in Southeast Portland. We are on SE Division St near the corner of Division and 32nd, right next to Sugar Me.
3213 SE Division St.
Portland, Oregon 97202
Map
Phone: 503-688-1196
Monday: 12pm - 7pm
Tuesday: 12pm - 7pm
Wednesday: 12pm - 7pm
Thursday: 12pm - 7pm
Friday: 12pm - 8pm
Saturday: 12pm - 8pm
Sunday: 12pm - 7pm
NO in-store pick-up available at this location 
Who We Are
She Bop opened in November of 2009 in the Historic Mississippi District in North Portland with the objective of creating an adult boutique specializing in non-toxic body-safe toys, exceptional books, and quality sensuality products. Due to a high demand, a second location was established in 2014 on SE Division St. She Bop provides an adult atmosphere that goes beyond the traditional sex store experience by actively pursuing a commitment to sexual education and conscious business practices while also offering a fun, safe, comfortable and sex-positive environment for people of all genders, sexual orientations and social backgrounds.
She Bop stands behind their company values and invites the community to join in support of their mission of:                                                        Exploration, Inclusivity, Community, Empowerment, Enjoyment and Education
Who Should Come to She Bop?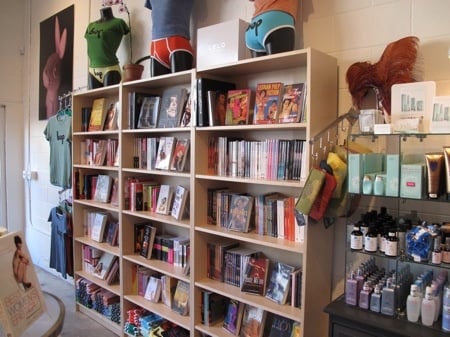 She Bop is female-friendly, not female-only. She Bop was created for a diverse community with an emerging personal and social awareness of healthy sexuality as an important component to everyday life. This includes all varieties of personal identifiers such as gender, sexual orientation, race, religion, age, marital status – whoever you are, as long as you are over 18, you are welcome in our store! For those under 18, we highly recommend checking out Scarleteen.
While many people think the name She Bop means that only "she"s can "bop" in the shop, our name is not intended to be about gender. It is actually inspired by Evy and Jeneen's love of their 80s-idol Cyndi Lauper who sang about masturbation and sexual empowerment in her song titled "She Bop". As we believe that there are a multitude of gender-identities and personal pronouns for people to identify with, the name She Bop is not about the pronoun but is about the message of sexual freedom behind the song.
From the products we carry to the way we talk to our customers about them, we strive to use gender-neutral pronouns as much as possible to avoid making assumptions about how our customers identify themselves and their partners. We are more than happy to adjust our language to accommodate specific pronouns – just let us know!
How We Bop Locally and Sustainably
She Bop reduces our impact on the environment by offering eco-friendly and local products when possible. We offer a large selection of rechargeable toys, organic lubricants and products made from sustainable materials. We use 100% recycled bags and we recycle packing material in-house by sharing them with our small-business neighbors or reusing the packing materials from our incoming shipments to pack our outgoing shipments.
Supporting our local community is also very important to She Bop. We carry many handmade and locally-sourced sexuality products and make an effort to purchase other services we use such as our T-shirt and sticker printing and even our phone/internet and credit card processing services from Portland-area companies.
We've given thousands of dollars to local non-profit organizations by raising money during our frequent in-store fundraisers and by donating gift certificates and goodie bags to outside fundraising events throughout the city, partnering frequently with Portland's feminist and LGBTQI organizations, low-cost health clinics and college campuses.
Through offering sexuality-focused educational classes and workshops at an affordable cost, She Bop helps keep our community sexually happy, healthy and informed. 
Classes and Workshops (these are being offered via Zoom at this time)
In addition to providing education to customers in the shop, we offer monthly sexuality-related classes and workshops. Class topics include the G-spot, anal play, non-monogamy, communication, cunnilingus, BDSM, burlesque, rough sex, fellatio, rope bondage, and many more. In addition to in-house educators Amory Jane and Gretchen Leigh, we enlist local sexuality instructors such as Stella Harris, Ev'Yan Whitney, and Jessie Fresh.
We also bring in speakers from other parts of the country. These have included Sex Down South Conference co-founder Marla Renee Stewart, author and director Tristan Taormino, sex edu-tainer Dirty Lola, and blogger and author Kevin Patterson.
See our events page for this month's classes and events, and visit our blog to browse previous classes! If you are interested in teaching at She Bop, please send an email to [email protected].
After-Hours Parties
In-Person Parties: We ARE BACK to doing in-person parties!! They begin at 7 p.m. and end at 9 p.m. The cost is $200 for up to 10 people, including a $50 initial deposit. If you would like to have more than 10 participants, the cost is an additional $25 per person (with a limit of 16 attendees). You'll get an introduction to our products and how to use them (a sex toys 101 so to speak), a personal shopping assistant in the form of your She Bop host, and plenty of time to shop and ask questions! Email [email protected] to inquire about in-person parties.

Zoom Parties: We also offer a private Zoom version with a virtual tour of our shop and 90 minutes of our host's time to ask them any and all sex toy questions! These cost $150 for up to 10 people and $15 for each additional person over 10. Email [email protected] to inquire about Zoom parties.
Before / After-Hours Binder Fittings for those under 18 Years of Age
Although our shop is 18+ during regular business hours, we are able to accommodate binder fittings for teens with a pre-arranged appointment, as long as they are accompanied by a legal parent or guardian. These appointments are currently only available at our North Portland location and are conducted in an adjacent space in the building, not inside our shop. Please send us an email at [email protected] or fill out our contact form to request an appointment. Let us know which dates and times you are available and we will check staff availability to schedule the visit. A legal parent or guardian will be required to sign a consent form upon arrival.
Community Support
She Bop is dedicated to promoting and supporting organizations focusing on healthy and safe sexuality, women's rights and LGBTQ rights, as well as other organizations and non-profits. This support comes through coordinating fundraisers and events to benefit a variety of worthy causes. Throughout the year, She Bop runs We Give Back fundraisers to support local non-profits Bitch Media, Q Center, SEI, North by Northeast Community Health Center, Call to Safety, Prism Health, TransActive, and Bradley Angle. Our staff regularly teach off-site sex education workshops to college students, LGBTQ youth, and local support groups. Additionally, She Bop sponsors sexy storytelling events Mystery Box Show, Whoopee! A Sex-Positive Variety Show, roller derby league Rose City Rollers, indie porn film festival HUMP!, and the always stunning shows of Rue Royale Burlesque. She Bop has also donated countless gift certificates and sex toys to a variety of organizations for special events and fundraisers.